The world we live in
I'm not sure describing the birth of Nora Jayne would be complete without also illustrating the historic backdrop in which she arrived. The year 2020 could one day be described as the peak of some of the most extreme partisan times the United States has ever seen, certainly in my lifetime. Simple things like "what gender is my child", once considered basic science and common sense, are now fluid political issues viciously debated. Politics has seeped into every nook and cranny of our daily lives. Sports, concerts, and other things once considered an escape from the world, are now as divisive and hyper-political as the political commentators that dominate the news. And we are in the middle of a tense Presidential election season, one which history may very well look back on as significant.
April 2020 was also right smack-dab in the middle of a worldwide pandemic from COVID-19, a flu-like virus which many say is much more contagious and deadly than the seasonal flu. That said, in such political and divided times, apolitical data is hard to come by, so history may serve as a more reasonable judge of current events than we the people are collectively able to do at present time.
Regardless of any political motives that are surely being pushed, COVID-19 has had an enormous effect on the daily lives of everyone around the world. Most countries and states have implemented "lockdowns" or given "stay-at-home orders" to encourage – or force, in some instances – people to stay at home and to "social distance" – a phrase created out of this COVID-19 pandemic. These government measures have created an eery and unprecedented climate across the globe. Few businesses are able to carry on as usual. The lucky businesses are able to have employees work from home – as is the case with my company. Other businesses simply cannot operate and have shut down altogether, either temporarily or permanently. This has resulted in 20+ million employees (and counting) being furloughed or laid off from their jobs, which has caused an enormous economic recession, as entire commercial areas look like ghost towns, and the stock market has seen historic losses.
Everybody worldwide has been either encouraged or forced to stay at home, other than for activities deemed "essential", such as grocery shopping, filling your car up with gas, or banking activities. Grocery stores have been emptied of entire aisles as people have scrambled to stock up on toilet paper, paper towels, diapers, and other essentials. Hospitals have nearly come to a halt as they shut down services deemed unessential in order to focus on COVID-19. Churches have shut down services entirely, including all services and activities of my church, The Church of Jesus Christ of Latter-Day Saints. Our church missionaries around the world have been sent home early (honorably) to protect them and those around them. And church temples have been closed to all ordinances and activity.
These are a few examples of the unprecedented, worldwide effect the COVID-19 pandemic has had. Fear, panic, and outright hysteria has been spread by politicians, media members, and the people alike – regardless of merit – and state and country economies, as well as normal daily activities, have all been brought to a screeching halt. Normal life no longer exists, at least for now.
Such is the backdrop of the world we live in, and the circumstances under which baby girl was set to be born in April, 2020.
I knew from the beginning
It seems Nora was destined for a dramatic entrance. Some context…
We (Ashley, really) have always had a heck of a time getting babies to full term. Ashley went through four miscarriages before we were blessed to bring our first little baby home. To our excitment (and surprise!), just eleven short months later, we were blessed to bring home a second! Since then, Ashley has thankfully only had one more miscarriage. However, that last miscarriage was a doozie! It was the one that broke the camel's back (and I think I'm the camel!). Some time in January of last year, I heard a "thud" in our bedroom, and went in to find Ashley unconscious, sprawled out on the floor. She had passed out from the miscarriage she was going through. A couple days in the hospital, more fainting (luckily at the hospital this time), and a near blood transfusion later, we did survive; but not before leaving an enormous imprint. That obviously took a big toll on Ashley and her body; but for me, it really put a dent in my psyche.
I was already turning forty that year, so the thought of more new kids taking chunks out of my empty nester years was ever prevalent. But having just seen my wife completely incapacitated, and me helpless to do anything about it… I had never been through anything like that before. I never wanted to experience that again. So, for me, the decision was made for us… no more kids.
Then August 19th came. I was at work, minding my own business, and my wife sent me a text with these pictures: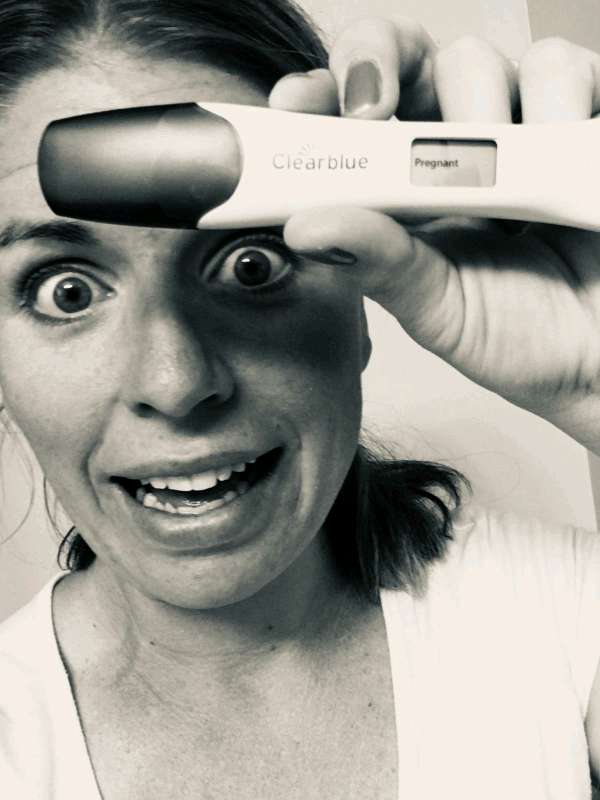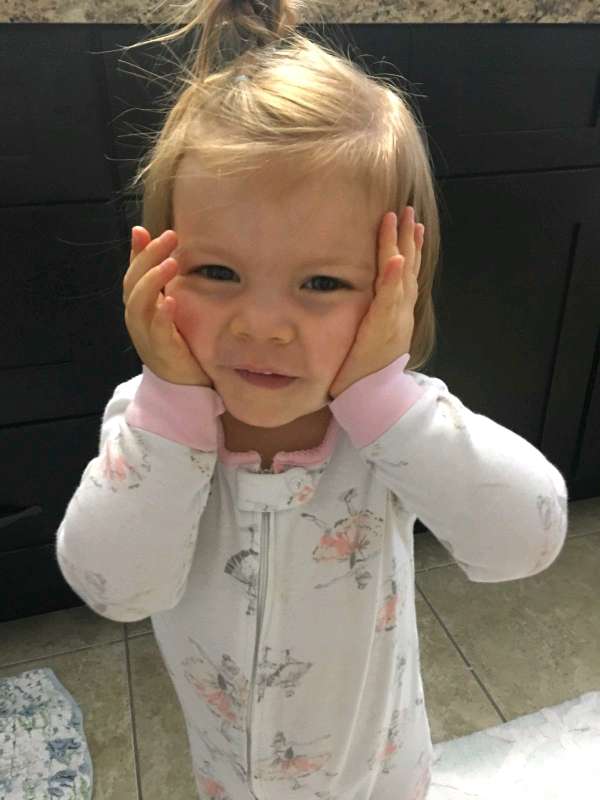 She was pregnant. Again.
Oh boy.
Ashley has spent the better part of our marriage being pregnant (approaching double digits now!), and because of our experiences with miscarriages I guess we've been conditioned (for better and worse) to temper our feelings whenever we find out. Of course I'm always excited, but historically our babies have a better chance of not surviving, so we don't want to get our hopes up too much. So any potential excitement is put on hold, at least until we pass the early danger zones of the pregnancy.
Add to that the complete trauma of the last miscarriage, I'm sure that's why Ashley let me know via text. She probably figured she wouldn't get the "jump for joy" kind of reaction out of me she wanted. And she had good reason to feel that way. My mindset at that time was I really did not want to put Ashley's body through that risk again. Heck, I didn't want to put me through that again! Especially when there are no guarantees! It just didn't seem worth it.
Funny how things can change. Even in an instant.
As soon as I received Ashley's text, none of that seemed so important anymore. Immediately a feeling of amazing peace and comfort swept over me. Not only did I instantly feel excited, something told me that not only will everything be okay, this baby will surely be joining our family.
Ashley can attest to the fact that I am very skeptical by nature, and that part of me makes it very difficult to think or feel many things in absolute terms. I hope there are some good things about this? But one not so good side effect is there are very few things in life I have felt so absolutely certain or positive about. Instead I'm constantly weighing each side carefully, pros and cons, actions and reactions, good and bad. With few exceptions, even when I feel great about something there's always some level of doubt or opposition I'm continually evaluating and re-evaluating.
This was one of the few exceptions. With that feeling of peace which came over me, doubt and opposing views simply didn't exist. I felt it so strongly I even verbalized it to Ashley and others not long after. And, in fact, looking back, I don't recall ever having any thought or feeling to the contrary.
I don't know how, but I just absolutely knew, without a doubt, this baby would be joining our family.
And join our family she did, right in the middle of the COVID-19 pandemic.
The hospital
April 18th was go time. Ashley was scheduled to be induced that morning, and the anticipation was so great she could barely sleep the night before. Finally, 6am arrived and we were ready to leave for the hospital, when the hospital called to change our scheduled induction time from 7am to noon. Doh!
Eventually, noon also arrived, and we packed Ashley's hospital luggage, got in the car, and much Ashley's chagrin, Alfie, our car – which had never had any issues before – decided to pick today of all days to not start.
Wonderful start to the day.
The hospital didn't offer any greater sense of normality. When we arrived, the parking lot was nearly empty, the main entrance closed, instead offering a sign which ushered to the emergency room, the only way in and out to the entire hospital. As we walked through the emergency room doors, we were stopped at a checkpoint where a nurse in a protective face mask took down our names and phone number, and gave us our own protective face masks to wear. The walk through the halls and up to the second floor was lonely: Cafes which would otherwise be open and busy were closed, waiting rooms were empty, only a couple hospital workers were in sight, and I honestly don't remember seeing a single person in the halls on our walk to labor and delivery.
Thanks COVID!!!
What is normal?
As abnormal as our environment was, and as strange as these times are in which we live, we were probably less fazed by it than we might have been. And while I'm not sure it had even hit me yet that we were having our third baby, Ashley and I both seemed to have a blinder-like focus on the task ahead.
Ashley got checked in, we got settled into our nice, big room (which has a great view!), and Ashley received her epidural as quickly as she could (which seemed to take forever to administer!). Ashley met her first nurse, Mindy, and her midwives, Jenny and Julie, arrived soon after. We were only allowed one other visitor besides myself, and shortly after, Annie arrived, fully expecting (as was Ashley) the delivery would be swift, given the ~3 hours it took to deliver JJ. We were unaware at the time that it would be nearly ten hours before Ashley would actually deliver.
Even though those ten hours were mostly down time, and even though they were void of the large number of family and friends we had at JJ and Lillee's deliveries, time ran fast, and it seemed there never was a dull moment. Despite all the unusual circumstances around us, the wonderful conversation, laughter, and reflecting we had grown accustomed to during deliveries in more "normal" deliveries was ever present. These ten hours spent with me, Ashley, Annie, and the midwives and nurses provided more than some sense of normalcy, security, and enjoyment, and served as a wonderful precursor for the very moment we were there to enjoy.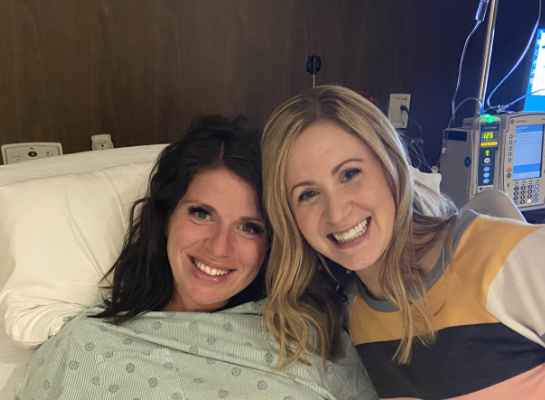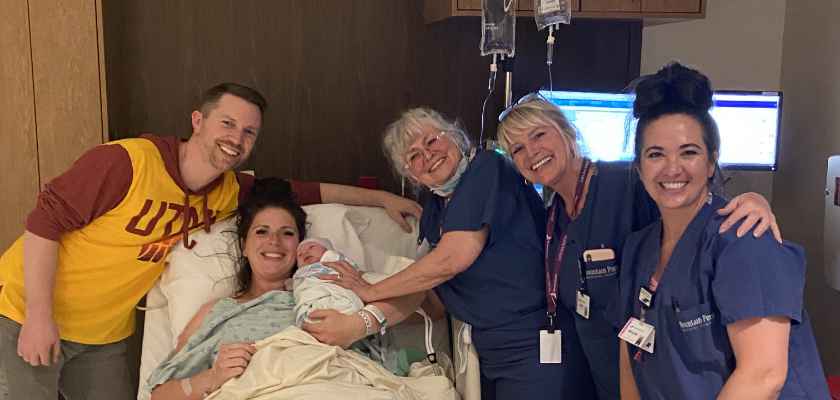 First impressions
One of the many advantages of having a midwife is that it was the only time I was offered the opportunity to help deliver my baby. I hesitantly, but gladly, accepted. After Ashley pushed a few times – enough to get baby girl's head to crown – a nurse helped me get my gloves on. With my doctor gloves on, I (naturally) felt empowered, and (naturally) ordered the nurses to grab my "scalpel… stat". 😋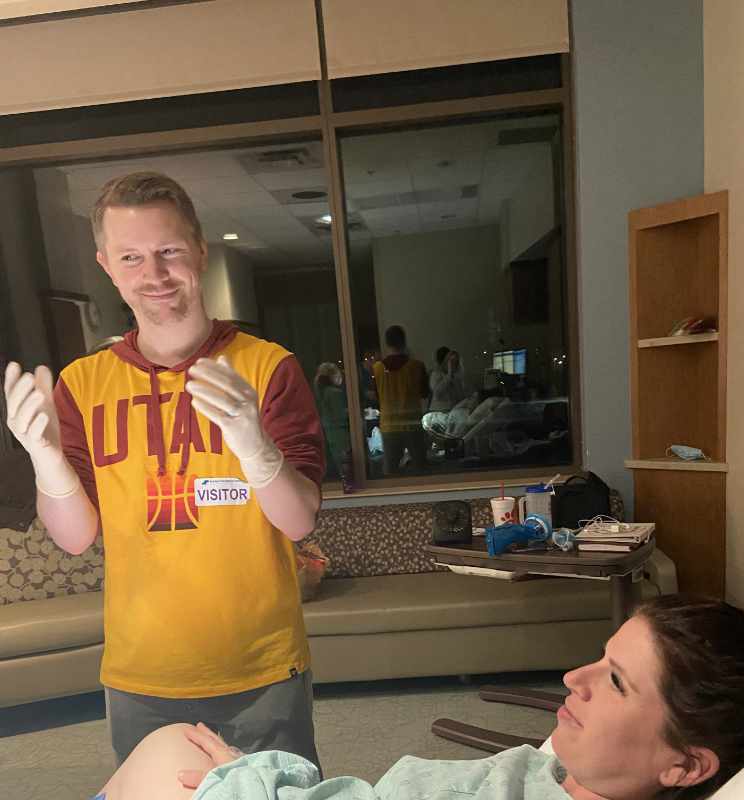 After 15-20 minutes – only a few short pushes later – it was my time to shine. At 9:55 pm on April 18, 2020, without complication, in as smooth a delivery process as there ever before was, I delivered my baby girl.
Okay… the midwifes did help a little.
As I held little baby girl in my hands and laid her onto Ashley's belly – still attached to Mommy via the umbilical cord – it didn't take long before baby girl took her first breath and cried. It seemed to me to be a soft, graceful cry, and what struck me is she seemed to stop crying almost as quickly as she began. Shortly after, I cut the umbilical cord, which I did in one fell swoop – as any top notch doctor would – and I ordered a nurse to get her vitals and wipe her down (okay, I didn't really order anybody, the nurse took her from me, but this is my story).
In all seriousness, this experience was surreal. This was our third baby in three short years, so the delivery experience was still very fresh for us. In fact, for me, it was comfortable. I was kinda feeling like I'd been there, done that; I knew what to expect. After you do something a few times and get comfortable with it, it can be easy to take it casually and perhaps miss some of its pure meaning. And definitely as we journeyed out this day, I was kinda like, "Yeah, we're having a baby. Already got two of 'em. But yeah, okay, it's cool."
Everything was on cruise control.
So it came as a big surprise to me at how new and fresh this delivery felt to me. It felt like a completely new experience. From the moment she arrived, I was totally drawn to my brand new baby girl – for whom we did not yet have a name. In fact, I hovered around her like a vulture, staying as connected as I could, squeezing onto her tiny little hand, loving every moment of her squeezing tightly back.
I was so drawn into the experience, into her spirit, and throughout it all, there were a number of things that struck me in such a profound and meaningful way…
1. Baby girl was ready to arrive.
As soon as she arrived, the first thing baby girl did was try to open her eyes. She just wanted to take a looksie at her strange, new world. Soon enough, she found success, her eyes opened up, and she began soaking in her surroundings. It reminded me a lot of Lillee's first moments of life, except that whereas Lillee's movements were more like "head on a swivel", baby girl's movements were slow, concise, calm, and patient.
Baby girl seemed so ready for the new world too.
The first time Ashley tried breast feeding her, baby girl enthusiastically latched on. Perfectly. There was no struggle, no re-positioning, she latched right on as if she had been doing it for months. This was unusual to us. Lillee and Jensen both took at least a number of days to get to that point, and even then never nursed as smoothly as baby girl did right from the start. Baby girl slept in 3-4 hour increments from her first nap, and even then Mommy had to wake her up to feed. Baby girl largely relaxes while the nurses check her vitals and work on her, she just took it all in stride, no struggle, no fuss.
It's not as if baby girl never cried, or exerted any will; she did. Every time Mommy tried to burp her, change her diaper, or the nurses bathed her, she cried with a cute little healthy and passionate cry. She definitely let us know what she didn't like; but as soon as it was over, so was her cry.
All in all, as I watched baby girl take in her new life, it was as if she was saying, "I am so happy to be here, I have so much to explore, and I have all the time in the world to explore it."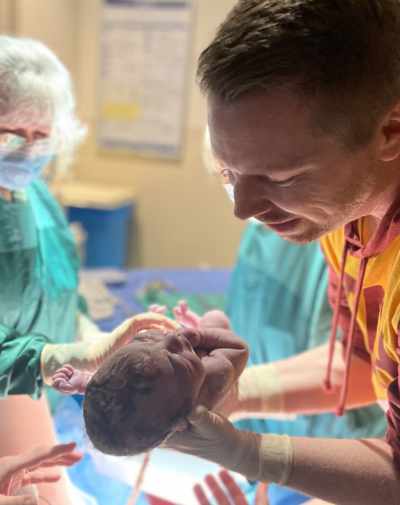 2. Baby girl knows her Mommy.
The same thing struck me with our first two, but it's amazing to me how much babies know Mommy. When I set baby girl onto Mommy's chest for skin to skin time, her attention was immediately taken away by Mommy. Baby girl bent her neck up to glance towards Mommy, which is where her focus remained, wrapped up in the soothing comfort of her Mommy's voice.
Baby girl knows her Mommy.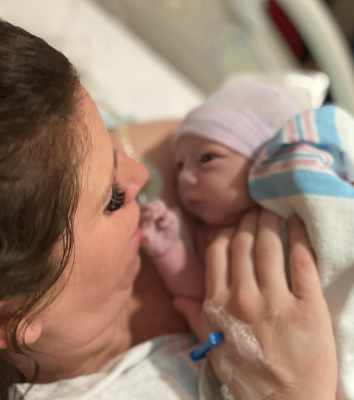 3. Baby girl brought a strong spirit of peace and love.
Out of everything, what struck me the most about baby girl – and is still so striking to me – was her calm, peaceful, demeanor. It was quite profound to me how content and still she was. As we experienced with Lillee and JJ, you generally know when a newborn is in the room; they make a lot of noise!
Not baby girl.
When I pulled her out and held her for the first time, even while they took her vitals and wiped her down, she hardly made a peep. As Ashley held her for the first time, and as baby girl glanced up to Mommy for the first time, she was calm and still and content. When she was done taking the world in after her first couple hours of life, and settled into a nap, she hardly moved at all. She was completely still. And as she slept her first hours in the night, I did not hear a peep out of her. Like, at all. If I couldn't physically see her, I wouldn't have known she was in the room; she was so quiet and still. Ashley also commented the next morning how she felt like she had to check on her throughout the night just to make sure she was breathing, because it struck her as well how quiet and still baby girl was.
Of course I'm a biased and proud father. But even others seemed to notice her sweet demeanor too. Annie, as well as one of the nurses, tried to put baby girl's demeanor in words, and each of us struggled to articulate it.
In fact, nearly a week after she was born, after we had arrived home from the hospital, I specifically asked Annie, "What do you remember most about the day she was born?" My intention in asking was to to find out if Annie actually did feel what we felt, but I hadn't yet articulated to anybody other than Ashley how baby girl's demeanor struck me, so I was careful not to lead Annie to any specific answer. I wanted her to answer openly, without bias.
Annie paused. A couple times she started to answer, only to pause once again, as if carefully choosing her words. Eventually she responded:
"I definitely remember the actual delivery the most. When she came out. And how peaceful she was. She was just… so peaceful."
Annie seemed to struggle to put into words how she felt about the experience, but she repeatedly used the word "peaceful". She explained it was so profound and special that she discussed the experience with Joe, her husband, how peaceful baby girl's spirit was.
It was interesting to have our feelings validated.
Ashley said about the experience:
"It has been one of the most peaceful, spiritually uplifting experience I have yet to have… and the room was just filled with overwhelming peace and light".
For my part, it's no easy task to properly describe baby girl's demeanor, or what I felt, and how meaningful it was to me. I think it's accurate to say that I didn't watch her demeanor, I experienced it. It was an experience. It was as if I felt her spirit communicating to mine, and I almost felt like I knew exactly who she is.
There's a reason I went into such detail to describe the economical, political, and physical environments we currently live in. Times are uncertain to say the least. The world is filled, now more than ever, with an excess of fear and doubt. Even baby girl had just experienced perhaps the most traumatic event we all experience in our lives: birth. With all of this, as I continually hovered over my baby girl and soaked her in, the same thoughts and feelings overwhelmingly wrapped around my being.
The trauma of child birth, and the exaggerated doubts and fears that exist in the world today contrast so well the peace, love, and contentment that radiated from my sweet baby girl during the first hours and days of her life.
It's as if baby girl is here to say:
"All is well. You are loved. Everything will be okay, because we will make it so."
And it's as if she is here to spread that message to everybody she can, even the entire world if possible, one person at a time.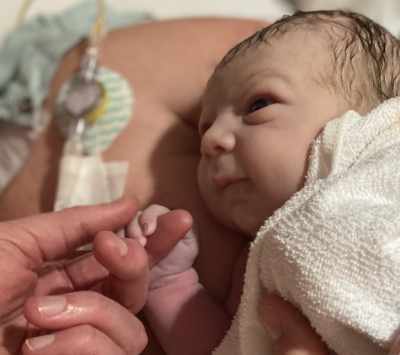 Nora Jayne Zimmerman
In the hours leading up to her birth, we had narrowed down some possible names to the following:
Saydee Anne
Nora Mae/Jayne/Kay/Lee
Madyson Mae/Jayne
Felicity Anne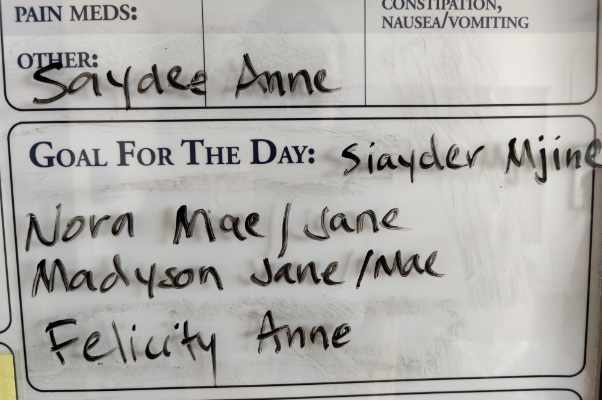 (Side note: "Siayder Mjine" is written on the board as a joke. My Mother's texts can be somewhere hard to read at times, so when I submitted a poll to my family of which name they loved the most, my dear sweet Mother voted for "Siayder Mjine". And naturally it became a family joke.)
From the beginning, Ashley loved the name Nora. And while I liked it a lot, I wasn't completely sold (there are too many adorable girl names!). Ashley decided to leave the final decision up to me. With great power comes great responsibility.
Shortly before her delivery I was leaning towards Madyson Mae, calling her Maddy, or Maddy Mae, for short. I wanted to wait until she arrived to make the final call. In the hours that followed her delivery, however, so profound was baby girl's calm and peaceful demeanor that I really wanted her name to fit. Remember how I struggle to come to absolute decisions? Well, knowing me, the only thing to do then was to start over from scratch! So I started over, looking up names on the internet that mean "peace".
Welp… my search didn't last long; shortly into it, I found this:
Well, okay, if it doesn't fit we must acquit; but in this case, it really does fit! Perfectly. I guess Ashley was onto something all along.
Nora Jayne Zimmerman it is.
Conclusion
Nora Jayne has only been in my life for 1 day, 2 hours, and 38 minutes, and she has already deeply changed me.
Some might wonder, as would the skeptic in me: How can you feel these things for certain? How can you really know exactly who Nora is as a newborn baby? Aren't you placing too much expectations or pressure onto her into being something that maybe she doesn't even want to be?
To be perfectly clear, my feelings and my experience with Nora over the last 24 hours have little, if anything, to do with any accomplishments or achievements she may or may not realize in the future. In fact, it has nothing to do with my expectations of her at all, at least in any worldly sense. Rather, I believe the things I felt and experienced with Nora have everything to do with what Nora has already accomplished in the past. More specifically, it has to do with where Nora came from in the past.
Nora is a daughter of our Heavenly Father. She is newly arrived off a direct flight from Heaven, loaned to me and Ashley during her time on this earth. Truth is fresh in Nora's spirit, even though her physical body can not communicate it. But at least today, her spirit can communicate it. And it has communicated it to me. I don't know exactly how I knew that Nora would indeed arrive safely into our home, but I knew. And I don't know exactly how I came to feel and experience these things in the hospital, but I did. All I know is that in the midst of so much fear and turmoil in the world, I believe Nora's spirit is confirming to mine:
"All is well. You are loved. Everything will be okay, because we will make it so."
A message both from Nora, as well as from our Heavenly Father, that no matter how imperfect the world we live in, and no matter how much uncertainty and fear that exist around us, love, compassion, and peace will conquer all. Heavenly Father will win. Heavenly Father always wins. And we can help Him make it so.
A message also that no matter what is going on around us, true and lasting peace is obtained by the things that take place within the walls of our own home, and within the bounds of our own family.
Nora, I am so grateful for the peace and comfort you have brought me this day. I will do my best to never let you down.